This is such a weird, fascinating cover. I don't remember when I started, but there was a time when I listened incessantly to Jeff Buckley's Live at Sin-E. I suspect it had something to do with the relative paucity of his recorded works, but I devoured this live album so often I had his onstage banter memorized. ("Uh, this song's for the lovers. I forgot to say before, but all these songs are for the lovers.")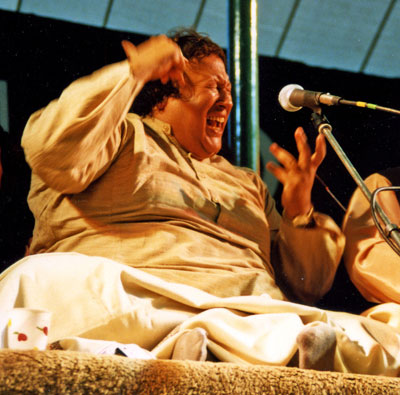 Anyway, he goes on at length about his love of Nusrat Fateh Ali Khan ("He's my Elvis. I listen to him every day"), whom he worried would become too mainstream if Buckley talked about him too often (HEY JEFF YOU SHOULD HAVE WORRIED THAT LEONARD COHEN'S HALLELUJAH WOULD BE TOO OFTEN COVERED AFTER YOUR ARGUABLY DEFINITIVE VERSION). He then sings this song, urging the audience to "clap like they do in Pakistan."
During my formative years stalking down albums in the White Plains Public Library, I finally found a couple of albums of Nusrat, including one of the various best-ofs that included Yeh Jo Halka. I planned on loving the original version, and being so obscure that I didn't listen to Jeff Buckley; I listened to the music he LISTENED to. But honestly, I wasn't totally into it. It was cool, but it was sort of missing the weird, awkward spirit that embodies Buckley's cover. And honestly, that's how I feel about Hallelujah too.